What's New in SketchUp and LayOut 2021.0?
We're rounding out SketchUp's twentieth trip around the sun with several new features, improvements, and important changes. As always, we look forward to your feedback, and another decade of improving SketchUp.
Here's what's new…
New logo icons for SketchUp and its application suite

The red SketchUp logo served us well since 2012. (Do you remember the logo before then?) We're moving forward with new marks for SketchUp and its application suite. This means new application icons for SketchUp, LayOut, 3D Warehouse, Extension Warehouse, and Style Builder, as well as a few modified toolbar icons. These new marks align SketchUp to the broader portfolio of Trimble products and… they can be modeled in SketchUp!
We expect that it will take time for people to adjust to the new logos for our products. But we're certainly optimistic you'll start to see SketchUp in these new marks, and that they will feel 'at home' over time.
Tag Folders
We are still keen to make it easier for people who maintain models using large and complex lists of tags and scenes. In this release, you can organize multiple tags into Tag Folders and control the visibility of folders per scene. Additionally, folders can expand and collapse, making it easier to scan your tag structure and find the tags you need.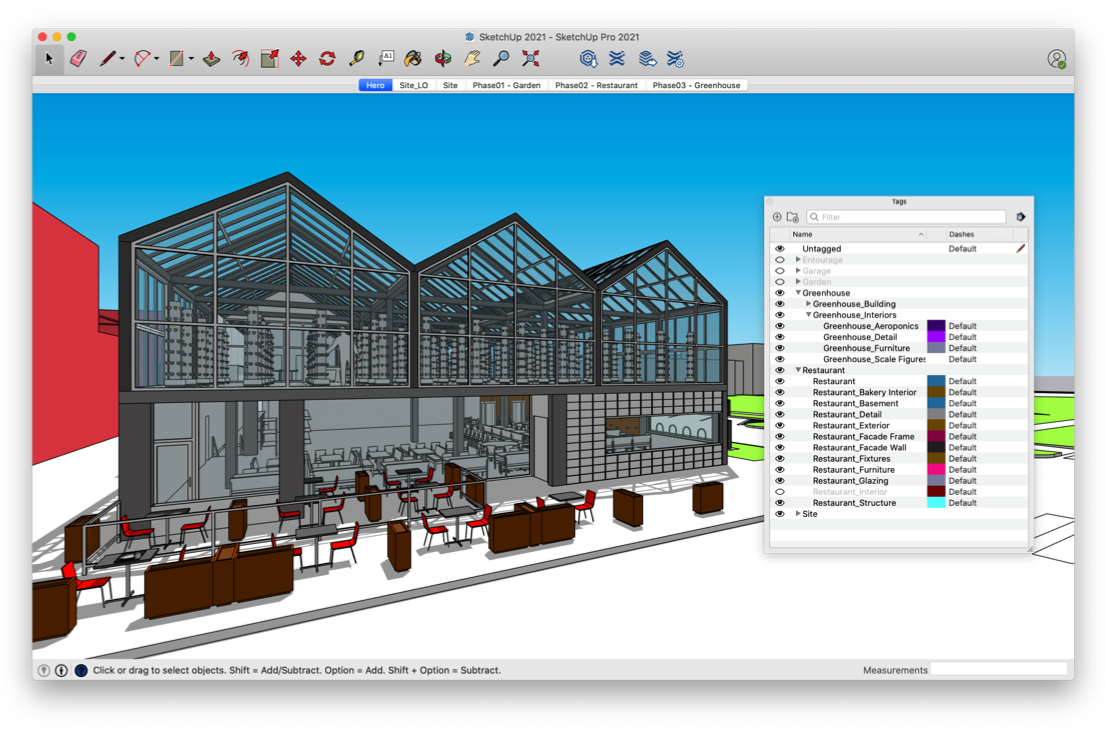 To create tag folders:
Select multiple tags in an existing model and click the Add Tag Folder button to group them in a tag folder.
Or, click the Add Tag Folder button and assign a name to a new tag folder. Then select multiple tags, and drag/drop them into a folder. We hope you'll try out tag folders with some existing models and also by creating tag hierarchies from scratch.
Tag Folders are also available in LayOut, where the tag tree hierarchy and visibility control is available in LayOut's Tags panel. Of course, scenes remember the visibility of your tags and tag folders across SketchUp and LayOut. And to accommodate models with deeper hierarchies or long tag lists, you can now control the width and height of LayOut's Tags panel.
Tag filtering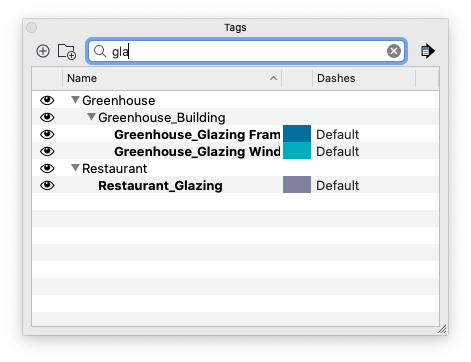 A long time coming, we're happy to introduce filtering in SketchUp's Tags panel. We hope this makes it a lot easier to zero in on specific tags. You can also use filtering when creating tag folders: filter down to a prefix or naming convention, choose Select All in the Tag Details menu, and hit the Add Tag Folder button.
You can also use keyboard selection modifiers to select multiple folders (or tags) and set their visibility all at once. To make a custom selection, use the CTRL (Command on Mac) and Shift keys to select desired tags and folders. With a tag selection in place, click the visibility icon for any tag or folder in your selection: the entire selection will respect your visibility change.
Live Component Configuration
Live Components are a new breed of parametrically configurable objects, and in this release you can control them in SketchUp.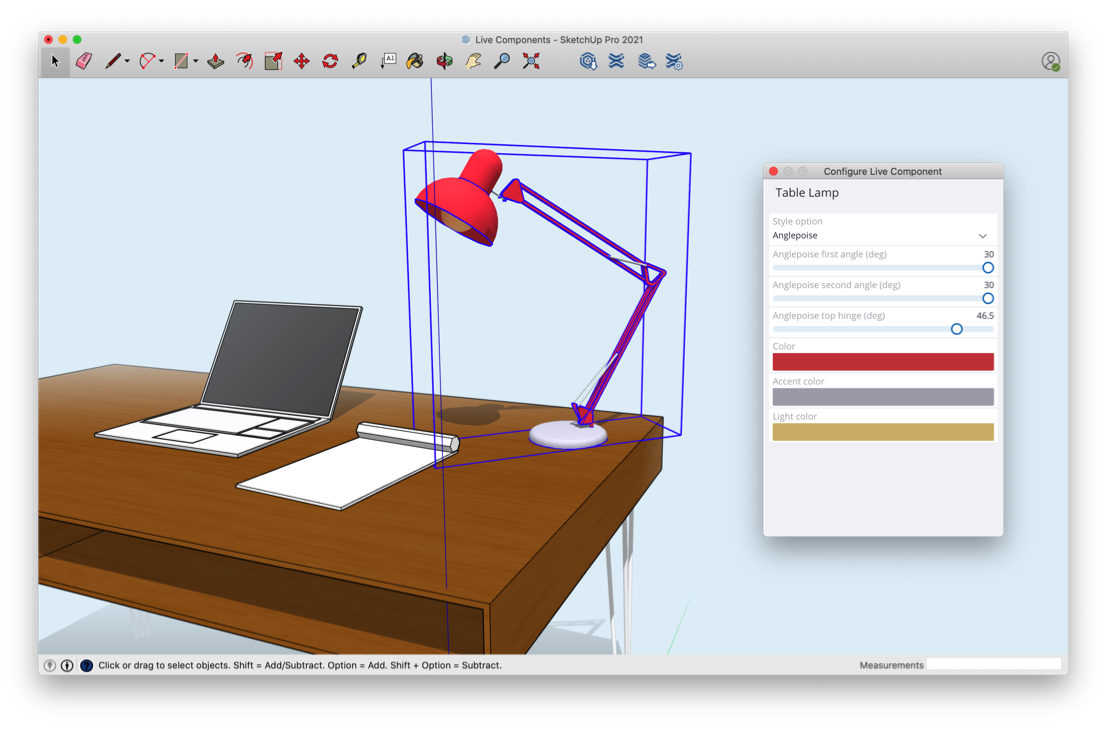 To bring a live component into SketchUp, open 3D Warehouse in SketchUp and navigate to our SketchUp Labs Live Component collection (or use the new Live Component search filter under advanced search options). Choose a live component to tinker with and download it into your SketchUp model!
Inside SketchUp, when you double-click to edit a Live Component, you'll pull up the 'Configure Live Component' dialog. Here, you can control the component's 'parameters'. If you want different configurations of the same object, use the "Make Unique" context menu command to create a new definition that can be configured separately. If you want to convert a Live Component into a regular component, use the "Detach Definition" option. Once you do this, the definition can be edited or exploded just like any other component. Notably, you can also insert and configure Live Component workflows in SketchUp for Web.
With SketchUp 2021, we are introducing Live Components with an open beta designation we are calling SketchUp Labs. The Labs treatment is meant for features that need more user feedback and development, but are stable and useful today. Basically, we are explicitly releasing earlier than we might otherwise in order to incorporate your feedback as part of our development process.
Start PreDesign from SketchUp
Alongside SketchUp 2021, we are also launching a new architectural research tool called PreDesign. Available to Pro subscribers, you can launch PreDesign (in a web browser) from SketchUp's File menu.
In PreDesign, you can geolocate a project to understand its predominant and seasonal climate, how that climate might affect the comfort and lighting of built spaces, and what design strategies may be useful for your project. Think of PreDesign as a new way to start architectural design projects in SketchUp.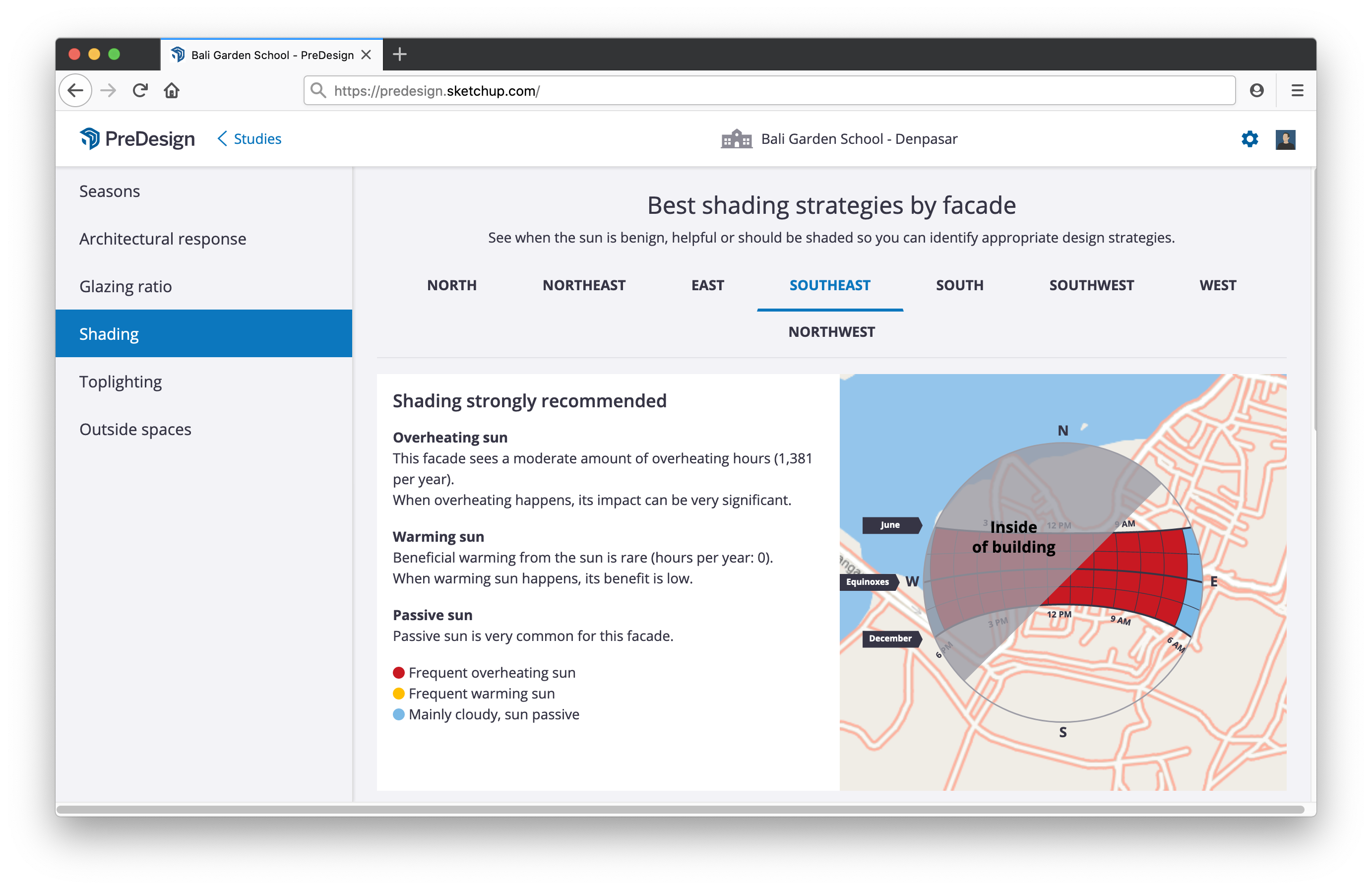 Under the hood: a re-built .SKP
SketchUp 2021 brings to light a significant under-the-hood improvement: a re-build of the .SKP file format. You are likely to notice a significant reduction in file sizes when saving models to the new format, and we're excited about additional workflow improvements this new file format will unlock going forward.
Direct download updates
As we are releasing more frequent updates to SketchUp, we want to make it easier for people to access the improvements we make between 'major' versions. In this release, we are introducing a direct download update. This means that the next time there is a new version available, you can use this update service to automatically download the proper language version. When an update is available, you'll receive a notification in SketchUp. You can initialize the direct download update at that moment, or defer to a later date. After downloading an update, you will be prompted to save and close existing files so that SketchUp can shut down. From there, you can install the update to the desired location on your computer.
Two-finger Pan and Pinch-to-Zoom in LayOut on Mac
'Enable two-finger Pan' is a new navigation option in LayOut on MacOS (available in General preferences). Designed to optimize trackpad use if you don't have a mouse, this preference allows you to pan the view using a two-finger swipe on a touchpad. If you want to stick with two-finger zooming, you can hold the Command modifier key in either state of the preference to switch between Pan and Zoom. Alongside this new preference, we've also enabled a pinch-to-zoom gesture. This zoom is available whether you choose to pan or zoom with a two-finger swipe. After a round of feedback, we are looking forward to bringing this capability to LayOut on Windows as well.